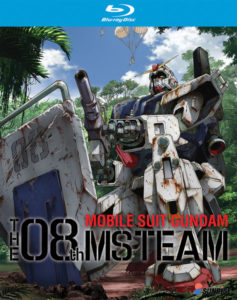 Title: Mobile Suit Gundam 08th MS Team on Blu-ray
Director:   Takeyuki Kanda (Eps. 1-6),Umanosuke Iida (Eps. 7-12), Shinya Watada (OVA), Mitsuko Kase, Takeyuki Kanda, Umanosuke Iida (Millers Report)
Studio: Sunrise
U. S. Distributor: Rightstuf
U. S. Release Date: May 2nd, 2017
Format: Blu-ray / 12 Episodes and OVA and Movie / 355 Minutes
Genre: Sci Fi, Mecha, Romance
Age Rating: TV 14
Overall Personal Rating: A-
Synopsis:
Mobile Suit Gundam 08th MS Team contains episodes 1-12 of the Mobile Suit Gundam 08th MS Team OVA Series plus the Mobile Suit Gundam 08th MS Team: Miller's Report movie.
The year is Universal Century 0079. The Federation has begun mass production of prototype Gundams for use by its ground forces. Shiro Amada, commander of the 08th MS Team, must lead his soldiers through fierce fighting on the ground. However, the Zeons are developing a secret project which could tip the balance of power! Can Shiro and his ragtag team of castoffs, rejects, and bad attitudes save the Federation?
Commentary:
Okay, now we have a Gundam series that is worth a little praise and a hefty pat on the back. Giving us the a hero how commands a standard grunt force stuck in jungle warfare is just beautiful. The team is made up of a wide variety of personalities and each one of them are just precious.
The overall feel of Mobile Suit Gundam 08th MS Team is rather straight forward and doesn't leave us wondering what is going on. Shiro is one of those commanders who seems rather calm on the surface but makes it clear that he believes in a rather optimistic hope for all of humanity. This and his apparent affection for a Zeon female soldier help him continue to do the right thing and also save the Federation from the Zeon zealots?
Overall Grade:
I really enjoyed the Mobile Suit Gundam 08th MS Team it gave me the kind of character development I have been looking for in the Gundam Universe without the overwhelming melodrama. There is plenty of melodrama, but it is tempered by the 08th Team itself.
The animation quality is rather good for an older series and placing the series on Earth in a jungle setting helps keep it grounded. The action and overall feel of  08th Team has a lightness rarely found and it is easy to see the the writing team enjoyed doing this one. The directing is also rather seamless between directors which also shows a continuity in the writing that helped.
To put it simply, Mobile Suit Gundam 08th MS Team is good and has plenty of tasty meet still left on the bone.