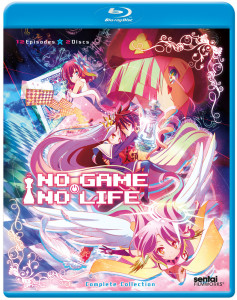 Title: No Game No Life Complete Collection on Blu-ray
Director: Atsuko Ishizuka
Writer: Jukki Hanada
Studio: Madhouse
U. S. Distributor: Sentai Filmworks, Section 23
U. S. Release Date: July 28th. 2015
Format: Blu-ray / 300 minutes/ 12 Episodes
Genre: Gaming, Harem, Comedy, Drama
Age Rating: TV MA
Overall Personal Rating: B-
Synopsis:
On the internet, they're legends: the tag-team duo known as BLANK, famed for their incredible game-playing skills. In the real world, however, the lives of 18 year old Sora and his 11 year old stepsister Shiro have been spiraling out of control. Now existing as shut-ins, they rarely leave their house and are unable to be separated without suffering panic attacks. Games, for them, are the safest retreat from reality. Until they win a chess match against a mysterious opponent known as Tet and find themselves pulled into a game bigger than any they could have ever imagined.
Now, in a world where the outcome of games determines the fates of both civilizations and species, they must defend Humanity in the ultimate challenge, vying against a host of otherworldly competitors for the right to rule them all! But if they fail, it means slavery or destruction for all mankind. No pressure, of course! Can two misfits who can barely handle their own lives somehow rise to the occasion and save the human race?
Commentary:
Oh no not another stuck in the game anime! Yep, that's right it's a mother story where the main characters get stuck in a game world. Can you say .hack, Sword Art Online and Log Horizon just to name a few already showing the way? I was already regretting watching No Game No Life before I hit play and the first episode left me feeling like I was right. I started off so self assured and pretentious that I really didn't want to keep going. Well, to say the least I managed to stomach a few more episodes and found that my disillusionment was all mistaken. The series managed to do something I would have never expected, it ended up being good.
No Game No Life takes the stuck in the game concept and adds onto the smart player roll developed in Log Horizon and thorns it on its ear with Sora and Shiro. They seem to understand the game better than anyone else and things unfold in unexpected ways. This plot device helps save the show and take it to a level that both entertains and gives rise to questions about the series itself. I'm not trying to say that they intentionally write in gaps of understanding, but because of the way the series progresses it becomes clear that there were simple basics overlooked to make it all work.
Overall Grade: B-
No Game No Life is an interesting series that takes the genre to another level. It is just too bad that there are so many aspects of the series that slow it down or just derail it from time to time. The fact that the concepts are so strong should have lent it to not having to rely on fan service or moe, but these elements tend to stay rather close to the core of the series. There is also the artistic palate that disrupts the flow and visual aesthetics of the series. I found the overwhelming amount of blue and pink to be oppressive and distracting. In the first few episodes I found myself wanting to walk away because of the visual and conceptual aspects of the series. I have to say that the writing saved it from a rather gruesome death.
There is plenty to dislike about this little series, but in the end I found a fondness for it that I can only call baffling at best. For all you gamers out there who need some sex-appeal in your life then you just might find this series worth the time to watch 12 episodes. For all you fan service / moe fans you should be sold by the cover and I doubt if you will be disappointed. So, check it out and if you are not sure about the series you should wait until the 4 or 5th episode before you turn if off. I have a feeling that you will end up sticking around to find out how it ends. I know I am still wondering that myself.