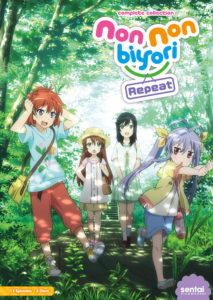 Title: non non biyori repeat (season 2)
U. S. Release date: 11/8/16
Format: Blu-ray or DVD/ 12 Episodes /300 Minutes
Genre: Childhood slice of life
Age Rating: 13+
Overall Personal Rating: A-
Synopsis:
Non non biyori repeat is a wonderful portrayal of life in the Japanese countryside. It centers around the female students of the small school. It is so small, there are only 5 students in the combined grade and middle school. Those in the area who are of high school age, go into Tokyo for their classes. We get to experience the events of their lives like the first day of school as well as the everyday things like deciding what to do or play on their day off.
As life goes on, the year is marked by the traditions and rhythms of the seasons of life in a small town in Japan. There is the childhood explorations of nature, the growing independence permitted in the culture and the building of friendships.
Commentary:
This anime was really nice to watch. The characters are easy to sympathasize with and really care about. Their interactions and friendships are a big part of the special quality of this anime. Visually it was gorgeous, the wonderful detail to the environment made the countryside's nature like a character in itself. It makes a perfect setting for the kids to explore in sync with the world around them. It is a beautiful nurturing world, the idilic place many of us would have wanted to grow up or raise our own kids in. The sound quality should be noted too. Even though most of the characters were girls, they didn't default to the annoying squeaky voice which is a big plus in my opinion. The music support was well done and often as lovely as the scenery.
Nothing super big happens, it is all sort of life taken in strides. A wonder in everyday things and a real appreciation of the events that mark the year's passing; the first day of classes, opening the pool, digging for bamboo shoots, pounding mochi on New Year.
Even though it is a sweet anime, it wasn't boring nor was I really hoping something exciting would happen. It may only be a girl learning to ride her bike, but it finds a way to go deeper than that. It is also what is going on around her. It is the reasons she is doing it. The emotions and reactions that are part of it.
This anime definitely has a comedy aspect, but it is subtle and much of it is the natural way that things kids do and say are funny. Non non biyori repeat is the second season but as this is a  slice of life selection and each episode is complete, you don't need to have seen the first season at all. I haven't seen the first one, but have enjoyed this enough to go looking for it.
Overall Grade: A- very sweet and beautiful portrayal of an idilic Japanese childhood. The only reason this get an A minus is that an anime that a younger audience could really enjoy as much as an adult really should be dubbed when released for the American market. I think this is limiting the market and leaving out some  enthusiastic younger fans.
In the radius:
Non non biyori repeat is cute and light hearted, full of peace and joy. Although there is not one story line that carries through the season and a goal to head towards, I think you will like this anime if you liked Love Live! and Is this order a rabbit?