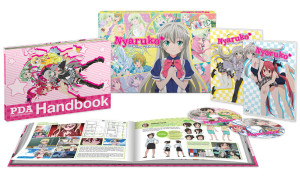 Title: Nyaruko, Crawling with Love
Director: Tsuyoshi Nagasawa
Original Story Author: Manta Aisora
U. S. Distributor: NIS America
U. S. Re-Release Date:
April 15,2014
Format:  2 Blu-ray disc / 12 Episodes / 288 minutes
Genre: comedy, romance, aliens
Age Rating: 16+
Overall Personal Rating: B-
Synopsis:
A normal high school boy, Mahiro, is walking along when he gets attacked by a monster. To save him, in swoops what appears to be a girl. Really she is the Cthulhu Deity of chaos, a member of the Planetary Defense Agency, sent to protect him.
Things happen as they do and this god being, Nyaruko, moves in with him. He isn't too keen on it, but she quickly falls head over heels in love. Her over the board flirting and cuteness drives him crazy but she does have a away of solving super natural problems and saving the day.
Originally a foe, Kuko, another supernatural being, also ends up in the house. She is madly in love with Nyaruko. But that's not all, Hasuta joins the group and has found the perfect partner. They all end up transferring in to school with Mahiro, settling into everyday life which includes video gaming, with only otherworldly threats interrupting on occasion.  It seems that Mahiro's mom knows way too much about what is going on.
A threat seems to be growing, and the supernatural/alien world, romantic rivals must band together. Sometimes traveling to hidden worlds, sometimes the trouble finds them close to home.
Commentary:
Nyaruko is based on the novel by Manta Aisora, which is based on the Cthulhu mythos by H.P. Lovecraft.  It might be a bit entertaining to be able to identify somethings but prior knowledge of  Cthulhu is not necessary. I've not read or played anything about Cthulhu and was still able to follow the story and events.
This anime has an overall high cute level which makes the sexual advances go too far. I have issues with youthful cuteness mixed with an overt sexuality. It  would have been much better it leave it out, or just remove the childlike appearances or personalities. The anime could have stood well without throwing in the uncomfortable sexual play. This really limits who I can recommend the anime to. My personal opinion on this is what drop the grade to a B-, otherwise it would be an A-.
Now to what I do like. With only 12 episodes, I really appreciate the way so much is fitted into the anime. The characters, backgrounds, relationships, interactions and battle scenes are able to convey so much, that it seems like a longer series. There are many characters introduced in the series as it progresses, yet it all keeps straight and we get more than a one dimensional person (or deity).
Visually, this is really wonderful. The artwork is skillful and well done. The kids are cute. The details are very interesting. The colors are wonderfully saturated and attractive. When the supernatural encounters happen, the whole atmosphere and color palette changes, really concentrating the mood.
The story is kind of wide and spread out, but the alien infiltration of earth is well played. It is fun to know it is tucked in here and there to our world. The characters travel a bit to distant hidden places or pop up to space. This is all entertaining, yet is all works in a odd sort of sense.
Some of the characters were running typical, with the overbearing girl after the reluctant main guy.  Throw in the instant love, and you might feel like the story is familiar, but with the Cthulhu mythos, nearly anything can happen.
Extras: The premium box set has the accompanying book and it is an excellent addition. It is beautifully colored and has character sketches and bio information. Each episode has a synopsis and still shots.
Overall Grade: B- There is a lot of awesome things going for Nyaruko, but relying on what appears to be underage interest in sex is a short cut for nervous laughter or train wreck int rest. It took away from story and character development, dragging the whole anime down, and away from a wider audience.