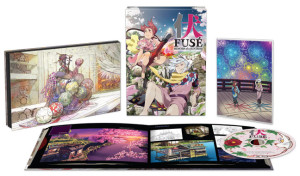 Title: Fusé: Memoirs of a Huntress premium edition
Director: Masayuki Miyaji
Studio: TMS Entertainment
U. S. Distributor: NIS America
U. S. Release Date: May 6th, 2014
Format: Blu-ray / Feature Film / 110 minutes
Genre: Supernatural, Edo Period, Romance
Age Rating: TV 14
Overall Personal Rating: A-
Synopsis:
Hamaji, a young huntress from the mountains, stumbles into the middle of a shogun's vendetta against a group of human and dog hybrids – the Fuse. Rumors of Fuse murdering innocent people in the bustling city of Edo have sparked a bounty for their heads. Hamaji joins the hunt for this dangerous quarry along with her brother, but after accidentally befriending one of them, Hamaji is torn between two worlds: her life as a self-reliant huntress, and the young woman her new friend has helped her to uncover.
Commentary:
Fusé: Memoirs of a Huntress is one of those films that you must give it some time to develop. The first 20 minutes are all about setting the plot up and after that it becomes very easy to sucked into this beautiful film. With the rich color and rather straight forward story the characters come alive and make you root for them and their progression through the film.
The animation is stunning. It is rich and full of vibrant color that keeps you interested and at the same time allows the love story to wash over you like a slow moving stream. This juxtaposition of imagry and story serves this film well. I makes the story become all the more important as the dramatic final scenes come to fruition.
Overall Grade: A-
Fusé: Memoirs of a Huntress is one of those films that just might fade into obscurity, but I certainly hope not. It is rich story that has plenty of emotion and is able to tell a rather pure love story in a way that is neither overbearing or sappy by nature. I believe that most ages would enjoy this film but would not recommend it for younger audiences due to some of the violence.
Extra:
This premium edition includes a hardcover, 32-page, full-color artbook, which contains character information, concept sketches, an interview with the director, and setting illustrations. I really feel that this artbook showcases the quality of the animation and the artistry that went into creating this fine film.