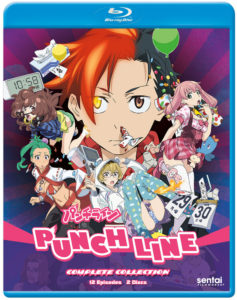 Title: Punch Line: The Complete Collection
Director: Yutaka Uemura
Studio: MAPPA
U. S. Distributor: Sentai Filmworks, Section 23
U. S. Release Date: August 16th, 2016
Format: Blu-ray / 12 Episodes / 300 Minutes
Genre: Comedy, Sci Fi, Harem, Supernatural, Fan Service
Age Rating: TV 14
Overall Personal Rating: B
Synopsis:
When your day begins with being held hostage in a hijacking, can things get much worse? How about being kicked out of your own body? Or learning that if you can't re-possess your physical shell, you'll trigger a panty-fueled apocalypse that will wipe out all life on the planet?
For Yuta Iridatsu, it's just the start of the worst out-of-body experience ever. Now, if his dissed disembodied spirit doesn't pursue the persuasions of a porn-obsessed paranormal pussycat and purloin a missing mystical manual, a meteor will collide with Earth!
And to stack the odds even further, the book is hidden somewhere in the boarding house Yuta shares with a bevy of beautiful babes, but if he gets an eyeful of his ravishing co-renters in their unmentionables before he's back in himself, it's flash-forward to Doomsday!
Will the literal end of the world be wearing briefs, a bikini, or a thong? Find out when panties, possessions and extinction level events have the ultimate rear-end collision in Punch Line!
Commentary:
Punch Line is another in the long line of fan service harem anime that has great potential to be something other than a gratuitous panty shot anime. Unfortunately, it seems to focus on the panties and leave the solid plot at home. I really enjoyed the story for the underlying plot line and thought many of the characters where rather well developed. The would have loved to get more about what was really going on. It isn't until the later episodes that the writers decided to get serious about the story and by that time it was too late to fully develop the plot.
As for the strange aspects to who all of the main characters are doesn't come out until much of the series has lost its charm. I think that the fixation on the panty obsession early on created a false impression for the series. I understand the thought process behind this fan service focus, but I would hope that the intent of the series was to get a broader audience than just a small minority of fan service fans. None-the-less, Punch Line does end up being solid enough to be entertaining and somewhat confusing until the later episodes.
Overall Grade: B
Punch Line may or may not be your type of anime, so, if you are looking for some light fan service and odd plot with plenty of twist as the later episodes unfold the it is a series for you.