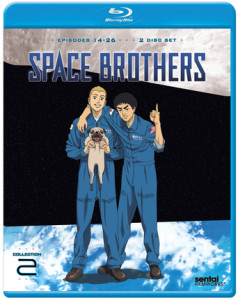 Title: Space Brothers collection 2 on Blu-ray
Director: Ayumu Watanabe
Music By: Toshiyuki Watanabe
Studio: A-1 Pictures
U. S. Distributor: Sentai Filmworks, Section 23
U. S. Release Date: April 21st, 2015
Format: Blu-ray / 13 episodes / 325 minutes
Genre: Sci Fi, Slice of Life, Action, Drama
Age Rating: TV 14
Overall Personal Grade: A-
Synopsis:
As the competition to become an astronaut continues to heat up, the candidates are subjected to a grueling series of tests designed to test their physical and mental qualifications to the utmost. Trapped inside a sealed environment with his closest rivals, Mutta's challenge is to force himself to think as a team player even as he jockeys for one of the two open seats to the stars. When things start to go wrong with the test mission, however, the tension really begins to build.
It'll take the combined resources of the whole team to solve the life and death problems being thrown at them… but what are they supposed to do when it becomes apparent that one of the team members is intentionally sabotaging their assignments? Will any of Mutta's team survive the ordeal and move up to the next phase of training? Or will they all wash out before they ever hit the launch pad?
Commentary:
Just as the first collection gave us reason to look forward the rest of the series, collection 2 of Space Brothers keeps it going and even furthers the case for why this is a solid series. With the focus of these 13 episodes is the third exam and how the want-to-be astronauts manage to deal with the stresses of the two week exam it becomes clear that Space Brothers is about relationships and how bonds are really formed.
As I watched this group of episodes I began to find a true fondness for several of the characters and a better understanding of why others are the way they are. The writing does another superb job of depicting a wide variety of personalities and how they would deal with the task at hand. They also made sure that there were some characters that were less than likable and also less sympathic than the greater group. I enjoyed how they made them move through the paces and how they managed to stay focused on the goal.
There are several fun parts and once we get back to Huston we get to meet an American who loves Japan and stands out as a genuine stupid American. I laughed because I meet these people all the time. They have a fondness for the Japanese that borders on obsessive but is funny anyway. I have always enjoyed it when these series toss it right back in our face.
Overall Grade: A-
As slice of life series go, Space Brothers is a bit of a cut above. There is not bitter sweet love story, but doesn't mean you don't get sucked in and begin to wish for the best for these characters. I could see being friends with both of the brothers and more importantly Mutta. He is a serious enough guy who has enough of a lack of self confidence that he both struggle with his own abilities and his success. He likable and at time simple for as complex a character as he is. I know things will work out because of the shear length of the series but I can't tell what is really going to happen.
I'm hooked and want to see the rest. So, bring it on.