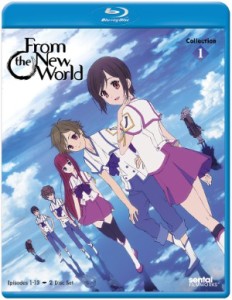 Title: From The New World Collection 1 on Blu-ray
Director:  Masashi Ishihama
Writer: Masashi Sogo
Studio: A-1 Picture
U. S. Distributor: Sentai Filmworks / Section 23
U. S. Release Date: April 15th
Format: Blu-ray / 13 Episodes / 325 minutes
Genre: Sci Fi, Romance, Supernatural, Drama
Age Rating: TV 14
Overall Personal Rating: A-
Synopsis:
Born into a world a thousand years in our future, Saki and her friends Satoru, Maria, Mamoru and Shun have lived their entire lives in what seems to be a perfect utopia. Not only is their small, idyllic community overflowing with clean rushing water and abundant green foliage, but almost all technology has been rendered irrelevant by the magical power of "Juryoku," the psychic ability to materialize anything one desires. But when Saki discovers a long-lost artifact from the past, the facade of their world is shattered and the cracks that split the foundation of their reality threaten to swallow them whole!
Faced with a bloody secret history of how their world really came to be and thrust into a nightmarish new paradigm, Saki and her companions are confronted with dangers they never knew existed and a series of choices that may change the fate of every intelligent creature on the planet – human and otherwise!
Commentary:
From the New World took me surprise and at the same time left me scatting my head. Within 10 minutes I was hooked and by the 4th episode I was wondering what happened to that cool, intriguing and enigmatic  show that I ha been watching. The series takes on a interesting view of our future as a species and how we cope with the potential of our own minds. Of course there is a very dark side to this, but what we first see is a rather bucolic world that seems to have found a rather strong balance with the world we live in. As we travel through the series we discover what lies beneath and some of the rather strange ways humanity has decided to deal with the stress of the  powerful abilities that have moved history in an unexpected way.
The animation starts off impressive and slick. It proves to be well suited for the Blu-ray format, but as the series progresses it show different phases of quality. There was even a couple of episodes that remind me very much of the most recent version of Casshern Sins with the hard edge and quick movement cuts. The different phases of style end up both bringing into focus the drama and also highlighting some of the weakness of the series. In an effort to make the series more rounded there are a few episodes that introduce us to some rather freaky creatures and also shows off how the rest of nature has evolved. Even though there are some important plot devices and structure for the series there is also a level of poor writing and somewhat sloppy storytelling.
Overall Grade: A-
There have been several new series released this year with much fan fair, but I would say that From the New World has something to offer that those heavily marketed series just don't have the depth of From the New World. There are also some rather odd aspects to the series that I didn't particularly enjoy, but overall it is an outstanding series that takes you on a trip that makes you wonder what is going on and keeps you wanting to see more.  I can honestly say that I am seriously looking forward to the second half of the series