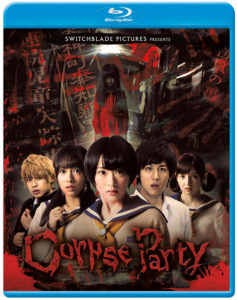 review provided by Andrew and Katie
Title: Corpse Party
Director: Masafumi Yamada
Studio: Kadokawa Daiei
U.S. Distributor: Switchblade Pictures
U.S. Release Date: September 27, 2016
Format and Length: Blu-ray / 94 Minutes
Genre: Horror, Supernatural, Mystery
Industry Age Rating: 17 and up
Overall Personal Rating: B-
Similar Series or Titles to Check Out: Corpse Party-Tortured Souls OVA
Fair warning: The following film contains massive amounts of blood, body parts, and entrails
Synopsis:
Horror Movie Lesson Number One: if you want to stay in touch with your friends, performing a binding ceremony on the grounds of a school that was demolished after a series of horrific murders may not be a great idea.
Otherwise, as a group of Japanese teens quickly learn to their horror, the simple ritual may open a doorway to an otherworldly dimension where the infamous Heavenly Host High still exists, and the demonic occupants within seek to redecorate the gore-soaked and carnage-strewn halls with a new set of bloody corpses.
Now, it's a brutal education in supernatural survival as the students fight both the resident spirits and each other, where the odds of graduating alive, let alone in one piece, are sliced shorter and shorter with every heart-pounding second. Japan's ultra-violent videogame and anime phenomenon becomes a shocking live action feature film as hell is unleashed at the CORPSE PARTY!
Commentary:
Corpse Party is a live action movie based on the anime series Corpse Party-Tortured Souls OVA and the game series by the same name. We all know how these are usually teasers to get you to buy the games. I don't play games. I don't have the time. Most have a tendency to end just as you are getting into it and when the story is getting interesting. I'm happy to say this was not the case. It's complete, and in an hour and a half they are able to wrap everything up into a nice package and yet still leave something open for a sequel. This feels more like the late 1990s, early 2000s Japanese live action horror movie genre, which included titles like Dark Water, Grudge, Ring, Shikoku, and Suicide Club. It has the same ominous feeling and semi-predictability. But those are features that have endeared these types of stories to their fans. One thing is sure and that is Corpse Party does beat its predecessors with the amount of blood and gore that it shows. Makes most of the recommended titles seem tame actually.
This leads us to the storyline. Most live actions like Corpse Party lack a storyline and are not super original. They solely survive on how bloody it can be and will take another bloody death over a glimpse of story any day. That's where it breaks from horror and goes into the mystery aspect. Corpse Party does have a couple of twists that you would not expect. Just as you think you know what happened in the past that leads to current events, it throws in something completely unexpected that makes you rethink the entire thing. The only complaint, and considering it's only an hour and a half, is everything seems rushed. They had to connect the dots in very little time. I have to admit that I had seen the anime and they went into a little more detail in the anime, than they did in the live action. They also had to omit a few things, nothing too consequential, and they also changed up a few times when things happened. The story was pretty decent and you had to connect a lot of those dots yourself, with little explanation outside of contexts clues they give. In the end you will have a few questions left but I think they are not very large compared to the story itself. The other thing was the characters. Though not well developed (how can you with so little time) you get a general idea of everyone and you tend to figure out personalities. In the end you learn to like most of them, but don't get too attached, as the title lives up to its name. The only other thing to mention is the music is perfect for the setting of the movie.
Because I did love Corpse Party in its animated form, I decided to give it a try in its live action form. I was not disappointed. Maybe one day, if I ever find the time, I will pick up one of the many incarnations of the game, and give it a try.
Extras:
Corpse Party includes scene select and Corpse Party trailer. This movie was released with Japanese with English Subtitles as the only language option.
Overall Grade: B-