Title: Vatican Miracle Examiner: The Complete Collection on Blu-ray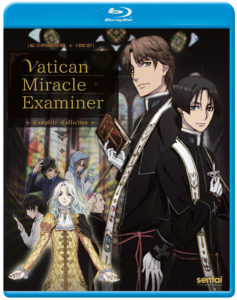 Director: Yoshitomo Yonetani
Studio: J. C. Staff
U. S. Distributor: Sentai Filmworks, Section 23
U. S. Release Date: Sept. 11th, 2018
Format: J.C. Staff
Genre: Mystery, Drama
Age Rating: TVMA
Overall Personal Grade: A-
Commentary:
Vatican Miracle Examiner contains episodes 1-12 of the anime directed by Yoshitomo Yonetani.
Miracles don't happen every day. But when something impossible happens that seems to be the work of supernatural forces or higher powers, it's the duty of the Assembly of Saints and their agents to investigate. Their job is to determine whether each incident is explainable via previously undisclosed information, a part of some plot to take advantage of the people's faith, or a genuine miraculous event. Priests Josef Kou Hiraga and Roberto Nicholas specialize in unveiling the truth and unearthing secrets that others might wish to keep buried, but when they're sent to Mexico to investigate reports of a virgin birth, they end up in danger of being buried themselves. Murder, demonic summoning and deals with the devil are just the beginning of a new war against the ultimate darkness.
Overall Grade: B
Vatican Miracle Examiner is one of a very short list of solid drama, mysteries coming out this year. It is also placed is world that is really rather foreign to the Japanese public and tackles a subject that is hard to understand for most Catholics much less the rest of the world. Vatican Miracle Examiner also takes us down a path that is dark any fraught with danger. It creates a mystery that opens the door for other forces to rule the day. I did find myself thinking back to Le Chevalier D'Eon.
The one thing that stands out for me is the well executed writing for the series and the lovely animation that helps draw us in while we hare exposed to the unnatural forces brewing. Even though I liked the production values I felt like it took on an almost shojo style of rendering that left me just a tad cold. I understand why things happen on a rather overall level but I did expect a fuller richer production value.
As for the character development I felt like we began to understand who we were interacting with, but because of the shortness of the series I came away feeling a little left out. All-in-all Vatican Miracle Examiner gives us a solid mystery drama that will not disappoint.