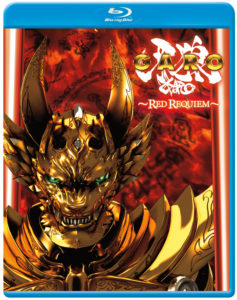 Title: GARO Red Requiem on Blu-ray
Director: Keita Amemiya
Written By: Itaru Eda and Keita Amemiya
Starring: Ryosie Konishi, Mary Matsuyama, Masahiro Kuranuki and Hironobu Kageyama
Studio: Tohokushinsha Film
U. S. Distributor: Kraken Releasing, Section 23
U. S. Release Date: April 4th, 2018
Format: Blu-ray/ Feature Film / 97 Minutes
Genre: Super Sentai, Action, Adventure, Drama, Fantasy
Age Rating: TV MA
Overall Personal Rating: C-
Synopsis:
During the ancient war against the monstrous creatures known as Horrors, many Makai Priestesses have fought and died in battle, yet no woman has ever been chosen to wear the mystic armor of the Makai Knights. Kouga, the current bearer of the gold wolf armor, Garo, doesn't believe it's even possible, but when his quest to destroy the Horror Karma thrusts him into conflict alongside the fiery Priestess Rekka, he's forced to acknowledge that the female is often the deadlier of the species! Because Rekka has a personal score to settle with Karma, and she's determined to destroy that Horror herself! It will be all Kouga and his Mado Ring Zaruba can do to keep the three of them alive long enough to do it in the GARO universe's first spectacular feature film directed by Keita Amemiya, GARO Red Requiem.
Commentary:
Garo: Red Requiem is, well, how should I put this, a Super Sentai for adults. Yes, it is Power Rangers all grown up. I can't say that the transition was all that great, but there are some scenes that contain enough nudity that it requires a mature rating. Other than that, it is just a dark, demonic, Super Sentai. The acting is in par with the Power Rangers and even some of the Ultraman series that have recently been released. It defies logic sometimes to understand how or why the acting is so bad, but it is the nature of this type of shows. Now, in Power Rangers or Ultraman the audience is young enough to see it as fun and extra cool, but in Garo; Red Requiem it just makes it a little more difficult to watch.
Overall Grade: C-
Honestly, I can be a sucker for these silly Super Sentai films because I was raised on Godzilla, Ultraman and even Johnny Socko (who does not rock). Garo: Red Requiem just falls short for me. There is a  solid story line or plot there but the fact that most of the real plot was absent, left me out in the cold. I think that if they would have followed the lead of a film like Zebraman, allowed the story to develop a little more and also added onto the love interest between Kouga and Rekk, then maybe there would have been more connection to the story. Instead there was just hints at connections and then large plot devices left up to the viewer to discover.
For as much as I found lacking with Garo: Red Requiem, I guess that I still enjoyed it enough to laugh at the goofy times and enjoy the battles in a way that is required from these over-the-top stories. So, if you are looking for a Super Sentai film with plenty of computer graphic demons and half naked women to keep you watching, then Garo: Red Requiem is just the ticket.