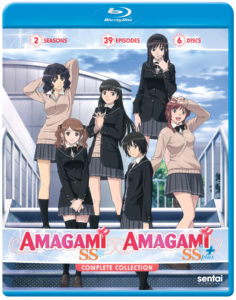 review provided by Katie and Andrew
Title: Amagami SS and Amagami SS+: The Complete Collection
Director: Yoshimasa Hiraike
Studio: AIC
Author: Noboru Kimura and Touko Machida
U.S. Distributor: Sentai Filmworks/Section 23
U.S. Release Date: October 10, 2017
Format and Length: Blu-ray /37 Episodes + 2 OVA's / 975Minutes
Genre: Drama, Romance, School Life
Industry Age Rating: 13 and up
Overall Personal Rating: C+
Similar Series or Titles to Check Out: KimiKiss: Pure Rouge, Hatsukoi Limited, Clannad, and Kanon (2006)
Synopsis:
Junichi Tachibana has never been lucky in love. Ever since his date stood him up on Christmas Eve two years ago, he has pretty much given up on the whole idea and spends his days inside his closet planetarium, going to school and hanging out with his friends Kaoru and Umehara. However, there are quite a few girls who would all make wonderful partners for Junichi if he would only open his eyes and his heart. Could he have struck up a meaningful relationship with any of them if he'd done the right things and said the right words?
Well, it is time to find out as Fate steps in and decides to see what would happen if Junichi were to snap out of his funk and take a chance. This is a whole new twist on the idea of love at sixth or seventh sight, and if one boy and a whole lot of different girlfriends-to-be sounds like a lot of wishful thinking… well, it is! But wishes have that weird habit of coming true and the statistical odds are definitely on Junichi's side as the guy without a date's luck with the ladies goes from bad to multi-verse! Will Junichi find his good ending with one of the ladies, or is he to be lonely for the rest of his life? Watch Amagami SS and Amagami SS+: The Complete Collection and find out!
Commentary:
Amagami SS and Amagami SS+: The Complete Collection is a series that follows Junichi Tachibana as he falls in love with six different girls at different times within the same time period; almost like Groundhog Day. Amagami SS is the first season and Amagami SS+ is the second season. I personally prefer the first season over the second but you will need to watch both and figure out which on you like better. This series is based off a PS2 dating game with the same idea. Each girl gets their own story arc of four episodes and we usually get a nice wrapped up story within those four episodes. Some arcs were better than others, but I enjoyed them all. I am a hopeless-romantic and I love a good romance if it is well done and Amagami SS: The Complete Collection is one of the good ones. I can see myself rewatching this series again.
Junichi's character is very well developed and we get to see this development through the arcs. However, he is always slightly perverted no matter what, but eventually you accept it and just laugh at those moments. Haruka is the girl the first arc is about. She is a very unique and cheerful girl who loves puppies and other cute things. She is really loveable and her voice actress did an amazing job bringing her to life. Kaoru is a childhood friend of Junichi and the second arc is all about her. She is hard-working and has a cool personality. Sae is the girl in the third arc. She is a first year student at the school and is very shy. They actually make a very cute couple. Ai and Junichi meet up for the fourth arc. This arc has the most emotion and development. The ending was beautiful and really moving. I could not help but feel attached to Ai as her personality is just too cute. Rihoko is the fifth arc's girl. However, she already loves Junichi but he does not love her. This arc felt very slow and drawn out. She is not a horrible character but this arc did not hold my interest very well. We finally meet Tsukasa in the final arc. She is the class volunteer for the Christmas festival at school and Junichi decides to help her out. Eventually they get closer and something beautiful happens at the end. Tsukasa is a wonderful and likable character.
In Amagami SS+, each girl is given two episodes to wrap up everything in a pretty bow. Personally, I think they could have cut it down to one episode each and made them into OVA episodes. They drew out the episodes by adding more drama than was necessary or by introducing characters that were not in the first season. If I had to pick a favorite arc for the second season I would have to say it was the Sae arc. It was cute but drawn out.
The opening and closing songs were well done and each arc has its own closing songs. There are two different opening songs and both are well done and catchy. Some of the closing songs are better than others but I think that has more to do with how you feel about the arc itself. The artwork was well done and the background pictures jumped off the screen.
Extras:
Amagami SS and Amagami SS+: The Complete Collection includes clean opening and closing animations and Sentai Filmworks trailers as special features. This series only has Japanese with English subtitles as the language option.
Overall Grade: C+
Amagami SS and Amagami SS+: The Complete Collection is a wonderful romance and I recommend it if you enjoy that genre of anime. It would have a higher grade if the second season was better.