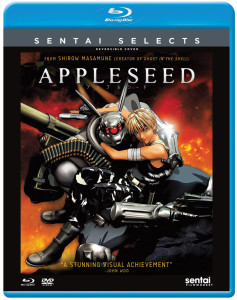 Title: Appleseed Blu-ray, DVD combo (Sentai Selects)
Based on: Appleseed by Masamune Shirow
Director: Shinji Aramaki
Written By: Haruka Handa, Tsutomu Kamishiro
Producer: Fumihiko Sori, Hidenori Ueki, Naoko Watanabe
Production Company: Micott & Basara, Digital Frontier
Music By: Boom Boom Satellites, Tetsuya Takahashi
U. S. Distributor: Sentai Filmworks, Section 23 Films
U. S. Re-Released Date: September 8th, 2015
Format: Blu-ray / DVD / Feature Film / 105 Minutes
Genre: Cyber Punk, Sci Fi
Age Rating: TV 14
Overall Personal Rating: B
Synopsis:
Plucked from the last battlefields of the final war, mercenary Deunan Knute finds herself pressed into duty with the ESWAT, defenders of the Utopian city of Olympus. But serpents lurk beneath the peaceful surface of this apparent Garden of Eden, and new seeds of destruction have already been planted! Now it's up to Deunan and her former lover, the now-cyborg Briareos, to unravel a deadly web of plots that threaten to bring down Olympus from within!
Commentary:
2015 just might become the year of the retread or revival of some long beloved films and  series. Appleseed is one of those films that was at the forefront of Computer Generated animation and one of the first anime that Sori got his hands on. In 2004 when this first came out it was hailed for its visual presence and the strength of the story itself.  It may not have gotten the same praise that Final Fantasy The Spirits Within, but it did find a special spot in the hearts of many a anime fan.
Looking back at the film today it is hard to find the same level of awe or the interest in the story line. It does bring back plenty of fond memories though and I have a feeling that is what Sentai is expecting. With the creation of the Sentai Selects I am interested to see how Sentai uses this new grouping. I have seen what they have planed for release later this year under that subset. I see it as being used much the way Anime Classics is used by one of their major competitors.
Either way it is great to see Appleseed regain some new life and possibly get seen by a new generation of anime fans. I for one love the film.
Extras:
Alternate English Dub, Audio Commentary, The Birth of 3D Live Anime, Staff Profiles, Original Japanese Trailer, Special Japanese Trailer.
Overall Grade: B
When giving a new grade to a film that in the past you gave a high rating to is difficult. Based on how dated the CG looks I found it hard to stay focused and with my love of the film from 10 years ago I found myself becoming a little disappointed with the film.
This of course is a very personal aspect to the my viewing enjoyment and feel as though a new fan will find the film a lot more engaging. I still loved story and can see how much impact Appleseed had on many of the newer writers and film makers, I is a true classic I just wish I could have graded this version higher.
If you are new to the film then you should try to look past the dated CG and pay attention to the story. I know you will be hooked in no time.