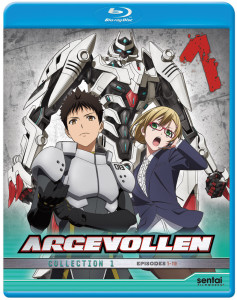 Title: Argevollen Collection 1
Directed by: Atsushi Ōtsuki
Written by: Tatsuo Satō
Studio: Xebec
U. S. Distributor: Sentai Filmworks, Section 23 Films
U. S. Release Date: September 1st, 2015
Format: Blu-ray / 12 Episodes / 300 Minutes
Genre: Sci Fi, Mecha
Age Rating: TV 14
Overall Personal Rating: B
Other series to check out: Knights of Sidonia, Nobunaga the Fool and Aldnoah. Zero
Synopsis:
Tokimune Susumu has every reason to distrust the military and question orders. His sister has already died in the service of the Arandas military, and his secret reason for enlisting is to ferret out the truth behind her mysterious death. So, when a civilian convoy is in jeopardy and his own battle mech is destroyed, Susumu's all too ready to break ranks and jump into the cockpit of the experimental Argevollen.
What he isn't expecting, however, is that activating the Argevollen conforms it to his mind alone. Now he's on the frontline of the ongoing meat-grinder that the war between Arandas and Ingelmia has become, and his only certain ally is an attractive civilian contractor whose reasons for being in the war are as convoluted as his own.
Commentary:
2015 may just end up being the year that the Mecha series made their triumphant return. At least in the U. S., really 2014 was the year in Japan. I think that some of the very best series release in the states this year are mecha and Argevollen is a classic example of where the genre tends to be very good and also very heavy handed.
Argevollen gives us a rather common story line of a young mecha pilot who has raw ability but doesn't understand how to control himself. Can you say Full Metal Panic, you know it is all about being able to connect with the machine to become the ultimate fighting mecha. Of course his youth and lack of understanding tends to get in the way and is pure energy and mindless will ends up being his savior. The level of coming of age struggles may be at the core of all too many anime, but is is also fun to watch and at the same time very frustrating when the drama ends up being heavy handed. And heavy handed drama is front and center with Argevollen.
Overall Grade: B
For a mecha series it is very entertaining because of the way they bring this band of military outliers together and prove that you don't have to be spit and polished to be good. There is also the connection between Tokimune Susumu and Jamie Hazaford that is handled very well. Jamie is a reluctant player in this war but as things move forward it is clear that she is meant to be right where she is and that she is there to help Tokimune and Argevollen become a single unit.
The animation is above par but in the end it is all about how these characters blend together. I can't say that Argevollen is one of the top offerings of the season, but if you are a mecha fan then you should be pleased with this series too. I still think the heavy handed dramatic approach is what always hurts mecha series. I will always love the approach that Full Metal Panic took with a easy blend of comedy and drama with plenty of wonderful action to keep things going.
Argevollen will find its home in the hearts of plenty of fans, so if you enjoy a action packed mecha then this one is for you.