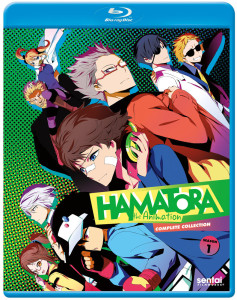 Title: Hamatora the Animation season 1
Directed by: Seiji Kishi & Hiroshi Kimura
Written by: Tōko Machida & Jun Kumagai
Music by: Makoto Yoshimori
Studio: NAZ
U. S. Distributor: Sentai Filmworks, Section 23
U. S. Release Date: September 22, 2015
Format: Blu-ray / 12 episodes / 300 Minutes
Genre: Drama, Sci Fi, Mystery, Supernatural
Age Rating: TV 14
Overall Personal Rating: A-
Synopsis:
Nowhere may seem like just another Yokohama cafe, but as with many of its employees, this apparently innocent eatery leads a double life. Because Nowhere is also where you can find Hamatora, the mysterious detective agency run by P.I.s who are also M.H.s. That's M.H. as in Minimum Holders, individuals gifted with extraordinary powers and abilities.
For the right price, you can hire founder Nice, who moves at the speed of sound, and partner Murasaki, whose super strength and near invulnerability are a significant asset. Of course, with incredible talents like these up their sleeves, Nice may not decide to take a case unless it personally interests him. But when a series of serial murders all turn out to involve other Minimum Holders, that interest is about to become extremely personal. Something monstrous is going on, and Minimum Holders as a class may be targeted for extinction!
Commentary:
Hamatora opens in a manor that made me feel like I was getting to see another series just like Penguin Drum and Persona 4 blended together, but it quickly made a detour that gave it a life of its own. As soon as it settled into its own skin I knew that it was something a more than a quirky blend of top series. I'm not sure if Hamatora is paying homage to some of the biggest new series or if it is taking the simple understanding and creating something a little different.
As the series progresses it manages to truly take on its own life and that is when it manages to move out of the shadows and stand in the sun with its head held high. The slow development of the characters adds to the overall feel and gives us a even greater reason to like them as we discover what is really going on.
Overall Grade: A-
Hamatora the Animation season 1 should find a large fan base and if it doesn't I will begin to doubt the american anime scene. Of course it is more complex than it looks and it requires some work as a viewer to pay attention to what is going on.
The only real drawback for me is the animation. I found it to be a little too hip and colorful for a series that has such a dark edge. That also lends itself to some of the ques it picked up from other series. The atmosphere change when someone uses their power is a little tiresome and almost too cliche', but I can understand why it is there.
Hamatora has to be one of the more inventive new series to be release in the states so far this year. I highly recommend it to the anime fan that love action packed series that have solid mysteries and a full array of characters that have plenty of great personalities and manage to keep you coming back for more.
I am looking forward to the second season. So Sentai bring it on.