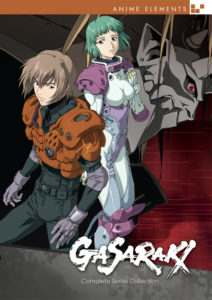 Title: Gasaraki: The Complete Series
Director: Ryousuke Takahashi
U.S. Distributor: Right Stuf / Nozomi
U.S. Re-Release Date: May 3rd, 2016
Format: DVD / 625 Minutes / 25 Episodes
Genre: Mecha, Supernatural
Age Rating: 13+
Overall Personal Grade: A-
Similar Titles: Evangelion
One of the most poignant phrases that haunts humans is "History always repeats itself". There are many tragic dances that burn in the flames of time and never quite seem to be completed.
Synopsis:
Japan has become fat on its own prosperity and have begun to get more involved in world politics. The Gowa family with their power base and industrial complex have developed bipedal weapons that they call Tactical Armor or T. A.. There is something special about the way they react and it all appears to hinge on how Yushiro Gowa performs. There is a deep seeded bond between man and machine but this bond does not seem to be natural, but rather supernatural.
With strife and war breaking out in eastern Europe the Gowa Organization and the Japanese military use this chase to see these new weapons in action. Unknown to them another organization, Symbol, has developed their  own T. A.s and when the two meet the Gowa team have their hands full.  The key to their team is young girl named Miharu, who had appeared to Yushiro during a ceremony when he was about to resurrect some unknown power that heir family is noted as holding the key to. This power was supposedly given to them by the God Gasaraki.
Once back in Japan Yushiro discover a terrible truth about himself that puts him on the path to uncover the truth about his history. This path leads him directly into the depths of the Gowa history as he discovers that he is what is know as a Kai, the one who can control the giant warrior the Kugai. He ends up fighting Miharu while piloting the Kugai and manages to defeat her. Knowing that there is a connection they both run off to discover their past. In this search they discover that they are connected for over 1000 years and what their terrible purpose just might be.
The power of the Gowa and a highly idealistic Japanese visionary leads Japan to the brink of destruction. The key lies with both Yushiro and Miharu. Will they repeat the nightmare of the past or can they overcome their history and find a new path?
Commentary:
Even though 1998 seems so long ago it is great to take this trip back to see this highly dramatic series. There is so much going on with Gasaraki that it take 5 episodes to get a grip on what is happening. The blend of Japanese myth and modern day technology gives a special edge to the series. This is topped off by the heavy drama that is played out. There are very few light moments and that might be the one area of weakness. The heaviness takes it toll at times and you almost have to take a breath to relax in order to move on. That is not to say that the series is depressing, because I did not find it to be a downer in any way, it just takes itself very seriously.
As I moved through the Gasaraki I found myself coming up with plenty of questions regarding the history of this intense family and how these two young people were really connected to it. I was very happy to see them and us get a solid understanding of the past which suddenly proved to be very poignant. It opened the plot line up and exposed the mysteries that lay beneath the surface. I must admit that there were times that I found Yushiro and Miharu a bit flat and mono dimensional but in many ways it works to their advantage as the series progressed and explained who and what they really are.
Overall Grade: A-
There are several series out there that deserve a second chance through the arena and Gasaraki is one of those series. If you have not seen Gasaraki and are a fan of Mecha intertwine with supernatural elements then this one is up you're ally. If you just enjoy a serious series that gives plenty of action then you should take the time to enjoy it.