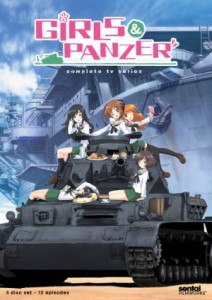 review provided by Andrew and Katie
Title: Girls und Panzer: The Complete Series
Director: Tsutomu Mizushima
Studio: Acras
Author: Reiko Yoshida
U.S. Distributor: Sentai Filmworks / Section 23
U.S. Release Date: December 3, 3013
Format and Length: DVD / 12 Episodes / 300 Minutes
Genre: Action, Comedy, School, Military
Industry Age Rating: 14 and up
Overall Personal Rating: A
Similar Series or Titles to Check Out: Strike Witches
Panzer Vor!
Synopsis:
We have all heard of kung-fu, but the girls at Oarai High School practice something completely different. They practice Sensha-do, the martial art of operating armored tanks. It is seen as a dignified martial art that helps girls hone their grace and femininity, one fire of the tank gun at a time. Miho Nishizumi hails from a family that is famous for their skill and knowledge of the art. She is a new transfer to the school, choosing it because they do not have a Sensha-do program. However, on the first day, the president of the student counsel, and her lackeys, approach her 'advising' her that they have restarted the program, and that her participation is expected, due to her family's history. Though reluctant, due to past experiences, she does join, being the only person with any knowledge of the art on the team.
Commentary:
There's a well justified stereotype fans tend to place on "cute girls doing cute things" type animes, hastily dismissing the potential it can have. This is one of those animes, that if you are quick to judge, you will miss out. Cute girls driving historically accurate tanks is what Girls und Panzer is all about but it also goes much deeper than that. Girls und Panzer first follows Miho Nishizumi as she begins attending Oarai High School and the conflict she goes through when deciding to join the Sensha-do team. Miho is the only character in the entire anime that has real development and background as a character. The remaining characters do tend to fall into standard stereotypes, and do have individual personalities, but not a lot of time is spent on developing them. It would be hard to do so with only twelve episode, time is precious, and developing the massive number of characters (3-5 girls per tank, 5 or more tanks depending on where you are in the story, and all the opposition schools' girls)  in this anime would take all the time. This by no means, detracts from the series.
Girls und Panzer is very much a fun, silly series to watch. It never takes itself too seriously, and in fact, ingeniously plays on its own faults the genre inherently has. I did find the music to be catchy, but truly nothing impressive. The art was kind of the same too, not to fancy or impressive, except for the details in the tanks, which were near perfect. As a student of history and the art of war, I had great appreciation for that, even when the little white flag pops out of the top, or even the bottom of the tank… You will see what I mean. It was for a good laugh. If you like tanks in history, it is worth a watch, because there are much more than Panzers and their variants. They included Japanese, Russian, American, and various European built tanks, ranging from early pre-WWII to modern M4-A1s and T-85s. The battles were well choreographed, and someone had put some thought into the individual teams' tactics and strategies. The excitement incited during the tank battles is enhanced by how silly and fun the different girl's personalities are. This anime is great for the simple that it took a serious thing such as tank battles and made it fun and unserious.
The definite pluses for me were the tanks, the overall idea of the story, and the girls' personalities do grow on you. Also much to my surprise and enjoyment, there was little to no fan service, which is different from a lot of the "cute girls doing cute things" genre. They tend to use fan service excessively to compensate for lack of an interesting story.  I do have a couple of small complaints. One thing I did find kind of cool, yet a little annoying at the same time was the flashing into first person view from the tank cockpit. It was a cool view, but utilized too much CG to make it work smoothly. The other thing was the small edits. In episode 8, opposition team Pravda School enters the battle leading off with a real cute song the girls sing in Russian. I was disappointed to see it was edited out by Sentai. If you want to see it like I did, you can always find it on YouTube though.
Extras:
Girls und Panzer: The Complete Series includes character introductions, Japanese Promos, Japanese TV Spots, Clean Opening and Closing Animations, and Sentai trailers as special features. The audio is available in English and Japanese with English subtitles.
Overall Grade: A
Drew and I finished Girls und Panzer in one night. You cannot help but get sucked into this anime because the tank battles are so intense and awesome and the girls are just too cute.