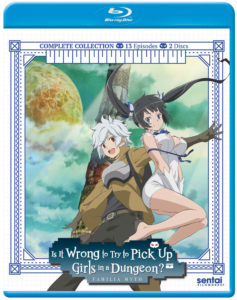 Title: Is It Wrong to Try to Pick Up Girls in a Dungeon? on Blu-ray
Director: Yōhei Suzuki
Writer:  Hideki Shirane
Music By: Keiji Inai
Studio: J.C.Staff
U. S. Distributor: Sentai Filmworks, Section 23
U. S. Release Date: March 28th, 2017
Format: Blu-ray / 13 Episodes / 325 Minutes
Genre: Harem, Fantasy, Romantic Comedy, Harem
Age Rating : MA
Overall Personal Rating: B
Synopsis:
Some adventurers delve into the sprawling labyrinths beneath the city of Orario to find fame and fortune. Others come to test their skills against the legions of monsters lurking in the darkness below. However, Bell Cranel's grandfather told him a different reason: it's a great place to rescue (and subsequently meet) girls! Now that Bell's a dungeon delver himself, the ladies he's encountering aren't the helpless damsels in distress he'd imagined, and one of them, the beautiful swordswoman Ais Wallenstein, keeps rescuing Bell instead.
As embarrassing as that is, it's nothing compared to what happens when goddesses get involved. Freya, Hephaistos, and Loki, with their powerful Familias, are intimidating enough, but there's one goddess whose relationship with Bell is certain to spark trouble. After all, Bell is the ONLY member of the goddess Hestia's Familia, and she's not sure if she wants to share him with anyone!
Commentary:
Is It Wrong to Try to Pick Up Girls in a Dungeon? hides no bones about what it is. It is a harem wrapped in a fantasy wrapped in a harem. This layering of a straight forward series may just be it's saving grace. The real issue are the characters and just a few side characters but, both Bell and Hestia tend to bring the house down when they take up too much time. Hestia is a little silly and Bell is the standard anime archetype that is plain whinny. You know the Shinji Ikari whinny where you just want to slap him.
I wills that the series sets itself up for a second season but also makes it possible to end it right there. I thought is was very interesting how Bell did grow into a nice character and that Hestia did manage to become a more sympathetic goddess.
Overall Grade: B
Is It Wrong to Try to Pick Up Girls in a Dungeon? is about as classic of a harem as it could be. The odd thing was that Bell seemed to be very interested in one person yet in love with another. This confusion with Bells character does play out to be a negative against him. I wanted him to be solely connected to one of the women and let the others just lust for Bell in the typical harem fashion.
Is It Wrong to Try to Pick Up Girls in a Dungeon? is a very easy anime to watch. It is clear right off the bat that the series is out to be a simple series that just entertains. The fan service is borderline which helps keep the male audience focused and also let the female audience watch without feeling to sexualized.
The animation is above average and easy to watch. I thought that many of the fight scenes were well choreographed and came across very smooth and natural even when you consider the amount of unnatural physics display and denial of gravity. The voice acting was good enough to not distract the action and development of the series.
Is It Wrong to Try to Pick Up Girls in a Dungeon? is a series that will please many people and also create a wanting for more. If you are looking for a simple series with an easy to watch animation and character development then Is It Wrong to Try to Pick Up Girls in a Dungeon? is for you, just don't expect too much from it.