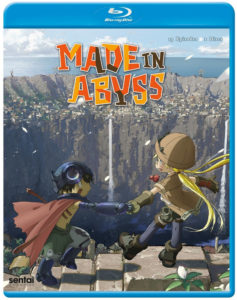 Title: Made In Abyss
Director: Masayuki Kojima
Studio: Kinema Citrus
U. S. Distributor: Sentai Filmworks, Section 23
U. S. Release Date: Oct. 23rd, 2018
Format: Blu-ray / 325 Minutes / 13 Episodes
Genre: Fantasy, Action, Adventure, Drama
Age Rating: TV MA
Overall Personal Grade: A-
Synopsis:
No one knows what's at the bottom of the Abyss. No one who's ventured that far has ever returned. What is known is that the Abyss is filled with strange creatures and priceless relics that have lured generations of fortune hunters into a diabolical trap. Because while anyone can descend into the Abyss safely, coming back up triggers a nightmarish series of transformations and madness. And the deeper you go, the less chance you have of coming back unchanged.
But when 12-year-old Riko receives a message that her missing mother might still be alive deep in the Abyss, she knows she has to go to her. She must go even if it's a one-way trip for her and her robot friend Reg as they brave the ultimate darkness in Made In Abyss.
Special Features: Japanese Trailer & Promos, Kevin Penkin Interview, Jouel Event, Making of Made in Abyss 1 & 2, Music in Abyss, Clean Opening Animation, and Clean Closing Animation.
Commentary:
Made In Abyss is good, very good. It manages to take a simple adventure anime and turn it into something much deeper and provide a real mirror into what make us all so very human even when it is reflected in the form of a robot boy. Made In Abyss reminds me of why I like anime and that is simply the way the stories are more complicated than they seem and the overall outlook on the universe that surrounds us. We often just move through life without the wonder of what is happening around us and small things can be great wonders. There is a real symbiosis with life in Made In Abyss that is magnified by the abyss itself and there is also a metaphoric relationship between the abyss and life itself. The series gives us much to think about in a rather simple story telling fashion and also provides us with the escapist vehicle that take us to places very unexpected.
Overall Grade: A-
Made In Abyss does all this well, but the best thing it does is develop a few wonderful characters. Riko and Reg both are rich full wonderful characters that are very easy to like. Then we are given a few mysterious side characters that end up being something of a overwhelming positive support cast and finally we are introduced to Nanachi, an outstanding character that has such a tragic back story that it make you want to just hug her and hold her close.
The animation is lovely and very easy to watch even when it is giving us the brutality of the Abyss. There is a simple art design that is rich and colorful without being overbearing and allows for some of the hard edges to be just a little softer.
My real complaint comes with the overall story development and where we are left off. I guess this is a sign that I really like this series because I want to see more and am eagerly awaiting the films that will follow.
So, if you are ready for a great fantasy adventure anime then Made In Abyss will be a must have in your collection.