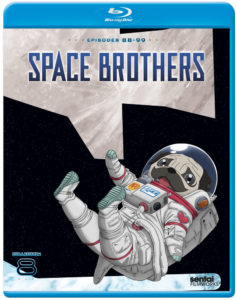 Title: Space Brothers Collection 8
Director: Ayumu Watanabe
Music By: Toshiyuki Watanabe
Studio: A-1 Pictures
U. S. Distributor: Sentai Filmworks, Section 23
U. S. Release Date: March 26th, 2016
Format: Blu-ray / 11 episodes / 275 minutes
Genre: Sci Fi, Slice of Life, Action, Drama
Age Rating: TV 14
Overall Personal Grade: A
Synopsis:
The single most important element of any mission is trust: trust in your equipment, trust in your crewmates and support team, and trust in yourself. As the trajectories of Mutta and Hibito's careers continue to alter dramatically, self-doubt and lack of trust become the deadliest of enemies. Once the rising young star, Hibito must now undergo round after round of grueling tests in order to prove that he still has the right stuff for the space program.
Meanwhile, Mutta has never been working harder, continuing to prepare for his own mission to the moon while serving as Vince's backup. But Mutta's team is still incomplete, and Chief Butler has yet to assign a captain to the CES-62 backup crew. Will the unexpected new addition to the roster change everything? Get ready for a rendezvous with destiny as the brotherhood of space meets its greatest challenge in the eighth interstellar collection of Space Brothers!
Commentary:
The end of any series is always bitter sweet because you have invested so much time, energy and emotion into watching it. Space Brothers is no different in fact it may even be more emotional just because the series is 99 episodes long. Of course there will be calls for it to add another season, but in many ways I think it ended perfectly. My imagination filled in many of the questions left at the end and played out several scenarios that would make the story even better.
It is no secret that I found Space Brothers to be a top notch series and something the entire family could spend hours and hours watching with great delight. I realize that most anime fans will not give this series the time of day because it doesn't have blood spattering or bouncing boobs in every scene, but for those who are looking for solid entertainment and a story you can enjoy then Space Brothers is for you.
Overall Grade: A
As I mentioned above, I think this is a series for the entire family. There is something for everyone. Thinking about prime time TV I could see Space Brothers filling a 7 PM slot and also finding a lot of families sitting down every week to get their dose of these two brothers trying to make their dreams come true. The series has it all, excitement, action, disappointment, attraction and even simple family fun. I am sorry to see it end and would like to know what the creator would do to fill in the open questions. The funny thing about leaving so much unanswered it that it is a very Zen thing to do. Life is full of unanswered questions and there are many possible directions to follow when traveling down any path which is why I found the ending of this series so poignant.
Giving an A to just this set of episodes is a true of not just Space Brothers collection 8 but of the entire series. I highly recommend Space Brothers to everyone and tell them to leave the world of fan service and extreme violence behind for a great story of dreams and struggles that can be applied to all of our lives.