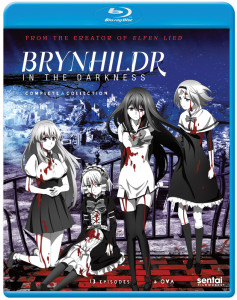 review provided by Katie and Andrew
Title: Brynhildr in the Darkness: The Complete Series
Director: Kenichi Imaizumi
Studio: Arms
Author: Yukinori Kitajima
U.S. Distributor: Sentai Filmworks, Section 23
U.S. Release Date: October 6, 2015
Format and Length: Blu-ray / 13 Episodes + 1 OVA / 350 Minutes
Genre: Action, Drama, Mystery, Sci-Fi, Horror
Industry Age Rating: 17 and up
Overall Personal Rating: B+
Similar Series or Titles to Check Out: Elfen Lied
Synopsis:
Haunted by memories of his childhood friend Kuroneko, Ryota Murakami has dedicated himself to discovering the truth behind the claim she'd made before she died: That aliens from other worlds walk among us. Believing that becoming a scientist is the path to the truth, Murakami pursues his studies by day and peers through a telescope at night. But when a girl named Kuroha Neko joins his class, the answers he's sought may be closer than he ever expected.
For Kuroha looks exactly like an older version of Kuroneko, and seems to have abilities that no human could have. But the truth isn't the only thing Murakami is about to uncover, and the secrets he'll learn come with a deadly price. Because Kuroneko was correct in her claim, and there are those who will do anything to keep that knowledge hidden. And unless Murakami and a handful of unlikely allies can somehow survive their lethal purge, the entire human race could be doomed! Will Murakami and his allies survive? Is Kuroha actually Kuroneko? You will have to watch Brynhildr in the Darkness: The Complete Series and find out!
Commentary:
Brynhildr in the Darkness: The Complete Series is a unique combination of genres that normally do not belong together. Harem animes can usually be grouped with action pretty well, and also mystery. Drama and harem are a given as there is no harem without drama. But it's not common to group a harem with a sci-fi horror. Most harems these days fall into the rom-com area, where there, the only serious thing that happens is the let down someone gets when rejected for another. Rejection seems so trivial compared to the ultimate fate of many of the characters in this series. In the end it made for a very complicated plot, with a lot of different side stories, and a bit of a twist in the end.
Brynhildr in the Darkness: The Complete Series starts immediately with scenes from the past, of a lost childhood friend and someone trying to cope with loss early in his life. Fast forward several years, Ryota has yet to come to terms with his friend's death. The nightmares never stopped, nor did the guilt that he was responsible for her death and that he lived. This has made him a bit of a recluse by this point in his life, fearful of the pain he felt then. He focuses more on his studies, being top ranked in his class and 4th in the entire nation. His focus on his work is how he copes. That is until she walks into the classroom. She looked the same, sounded the same, and the name was very close to the nickname he called her. The trauma he never got over comes back full force as he tries to figure out if it's really her. Life is about to get very complicated.
The plot was unique. Due to this, a few holes did pop up. Nothing you could drive a spaceship thru, but something that made you go 'huh?' Because the anime only got a half season (12 episodes) it did seemed rushed at times, as they had to get the story in. Overall it all worked out though. There was plenty of fan service, and 2 minutes later the walls were covered with blood. If you have seen Elfen Lied they are both by the same person, so you have some idea what to expect in the way of blood, guts and gory. But this series does very much separate itself from its older brother. The other thing is character development. They developed the four main characters well, but many of the others you don't get to know very well. The art and music were good. I loved the opening theme for the first 9 episodes and the OVA. I personally did not need that second opening.
Extras:
Brynhildr in the Darkness: The Complete Series includes clean opening and closing animations and Sentai Filmworks trailers as special features. This series was released with both English and Japanese with English subtitles as language options.
Overall Grade: B+
This was a very difficult series to review without spoiling the plot. Overall Brynhildr in the Darkness: The Complete Series will draw you in, make you feel anger and sadness, and ultimately deliver a twist that was not expected. Just be ready to bathe in blood and entrails.