review provided by Katie and Andrew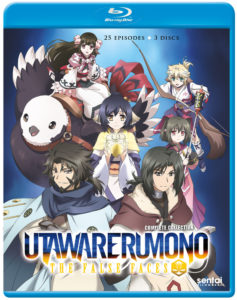 Title: Utawarerumono-The False Faces: Complete Collection on Blu-ray
Director: Keitaro Motonaga
Studio: White Fox
Author: Takamitsu Kono
U.S. Distributor: Sentai Filmworks, Section 23
U.S. Release Date: April 25, 2017
Format and Length: Blu-ray / 25 Episodes / 600 Minutes
Genre: Action, Comedy, Drama, Fantasy
Industry Age Rating: 17 and up
Overall Personal Rating: B+
Similar Series or Titles to Check Out: Utawarerumono
Synopsis:
Where is he? More importantly, who is he? Awakening in a frozen wasteland, his first memories are of danger as he is instantly attacked by a giant creature. Kuon, the cat-like girl who rescues him, doesn't know who he is either, but she gives him the name Haku in honor of another mysterious stranger who came to this world. Now, Haku must quickly learn how to survive in a land where monstrous beasts prowl, and where half-human beings rule in a city riddled with intrigue and secrets. With armies to aid, Princesses to guard, and a whole new future to explore, Haku and Kuon will face truth after shocking truth!
Commentary:
Utawarerumono-The False Faces: Complete Collection is a continuation of the original series, and takes place several years after the original Utawarerumono series. I have to say that the original scored very high in my book, as it would have received an A. It was an epic tale, with twists and turns all about. Utawarerumono-The False Faces: Complete Collection (second season is a fair statement) continues to live up to its predecessor. You are introduced to a completely new set of characters, and a new land. There are a few characters that make an appearance from the original series but they are only there for a few scenes, and make little impact. The first ten or so episodes do go slow at first, but they spend all this time building characters and relationships. The characters are very well developed and feel very real. You will develop an emotional attachment to many of them. At first the menial day to day activities will drag, as they develop characters, but after that it turns into another epic story as the action picks up, making it hard to stop watching. Many things will surprise you, and if you are a fan of the original, you will find a few of them will bother you, but rest assured that there is a reason for the turns it takes. The ultimate surprise came in the last episode, and completely without warning. Then it happened. It ended. If you have read any of my previous reviews of animes based on video games, you know it's a pet peeve of mine that they must wrap up a story, and not use it as a "buy the game to see how it ends" to promote further sales of the game. In fact, there is little that irritates me more, as I am not a gamer. I cannot say that it ended completely, because it did not. It was more an end to that chapter, and more to come, except, there was no more. That was a big let down in the moment, but all things considered they did stop at a good point, if they plan to release another season to continue it. I very much hope they do, because I'm not buying the game. If they don't, my disappointment will be extreme.
The art work itself was very good. In most scenes, they did a great job of mixing the CG with the animation so it did not stick out like a sore thumb. They also did very well with background scenery. Always active, like real life, the animation did not halt when characters were talking, like they do with many other titles. From tale and ear movements, to overall background action, there was much detail and made it even more enjoyable. Also the music was pretty good. Not epic, but worth listening to and not skipping the openings and endings, unless you cannot wait to see what happens next, like I did. I'm not known for my patience either. Overall, Utawarerumono-The False Faces: Complete Collection was a great story and worth checking it out. Had it wrapped up better instead of leaving it as an end of a chapter with lots of story left to tell, it would have gotten the highest score possible. I look forward, with much anticipation, to the continuation of Utawarerumono-The False Faces: Complete Collection.
Extras:
Utawarerumono-The False Faces: Complete Collection includes clean opening and closing animations and Sentai Filmworks trailers as special features. This series was released with both English and Japanese with English subtitles as language options.
Overall Grade: B+