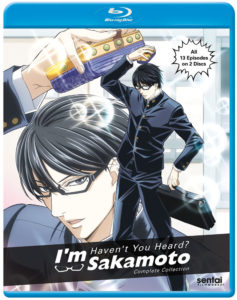 Title: Haven't You Heard? I'm Sakamoto on Blu-ray
Director: Shinji Takamatsu
Studio: Studio Deen
U. S. Distributor: Sentai Filmworks, Section 23
U. S. Release Date: Nov. 21, 2017
Format: Blu-ray / 13 Episodes / 325 Minutes
Genere: Slice of Life, Comedy
Age Rating: TV 14
Overall Personal Rating: A-
Synopsis:
Step into classroom 1-2 and meet the coolest guy in school. In fact, Sakamoto may just be the coolest guy ever. And that's not just because he makes his student uniform and glasses look like a fashion magazine cover. There's also the fact that nothing ever seems to surprise or rattle him. The girls are all crazy for him, of course, but even the most macho delinquents start to feel a little funny when he's around.
However, Sakamoto never seems to notice, let alone take advantage of the attention. He's too busy being cool and mysterious without even trying! This does drive some people crazy, but the more someone tries to challenge Sakamoto, the more they start to fall under his spell. Intrigued? Then come join the class and get a lesson in cool from the master in Haven't You Heard? I'm Sakamoto!
Commentary:
Haven't You Heard? I'm Sakamoto! is something of a dilemma anime for me. On one hand I think it is great and makes you want to be that extra cool Sakamoto, but on the other hand I feel like it is a one note anime. There is just too much thing to upstage or discover any flaws in Sakamoto that I feel as though the series is missing a great opportunity to make a average person manage to get through High School by just being very cool. Instead they make Sakamoto cool without trying to be cool.
I know it may seem petty and in fact I see the series as a true hit and yet I still don't connect with the character they way I wish I could have. Of course it is more important to connect with the other characters to make the series worth while.
Overall Grade: A-
I realize that this is a high grade for a series that I believe has some serious flaws and in a way I am just another hypocrite falling in line with all of the other anime fans who like this series. I did find the other students to be worthy of my fandom and also enjoyed seeing them fail at all of their attempt to trip Sakamoto up or even discover his first name. I am just a weak as everyone else that has seen and enjoyed Haven't You Heard? I'm Sakamoto.
As far as the animation, voice acting and overall production of the series, I would have to say that it was above average but not something to write home about. I could say there was any real standouts or major failure. That for me is a job well done and should be recognized for the effort put into the series to make it work a seamlessly as they did.
If you always wondered how the really cool kids managed to be really cool then don't watch Haven't You Heard? I'm Sakamoto because, it will only fool you to think they didn't even try. If you want to watch a series and realize that you are just like all the other students then Haven't You Heard? I'm Sakamoto is just the medicine you need.