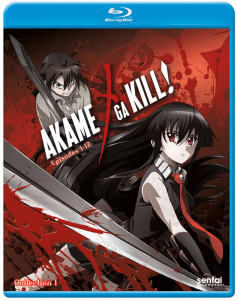 Title: Akame ga Kill Collection 1
Director: Tomoki Kobayashi
Creator: Takahiro
Written By: Makoto Uezu
Studio: White Fox, C-Station (ONA)
U. S. Distributor: Sentai Filmworks, Section 23
U. S. Release Date: February 9th, 2016
Format: Blu-ray / 12 Episodes / 300 Minutes:
Genre: Fantasy, Action, Supernatural, Drama
Age Rating: TV14
Overall Personal Rating: B+
Synopsis: 
When he set off for the Capital, all Tatsumi wanted was a way to make money. Instead, he finds himself rescued from a fate worse than death by a group of assassins known as Night Raid, and thrust into the middle of a bloody revolution. On the one side: Prime Minister Honest, his secret police, elite squad of assassins, and the armies of the Empire. On the other: Night Raid and a handful of rebels desperate to overthrow the brutal regime of Honest's puppet emperor. Leveling the playing field: the Imperial Arms, a legendary set of unstoppable weapons created in the distant past. But to use an Imperial Arm is practically a death sentence, for only a select few can even survive using them… and when two Arms go against each other, only the user of one is likely to survive in Akame ga Kill!
Commentary:
I really like to say that Akame ga Kill is something new and different, but I just can't. It is very entertaining and full of action. Akame ga Kill just falls into the trap of being another action anime that isn't so worried about the plot but rather the movement across the screen. Akame ga Kill proved elements of being a harem, a supernatural drama and a fantasy series that provides plenty of battles with blood splattering all over the place. Why is it that we never meet the cleaning crew and the cloths washers. With these characters only having one set of close I would think that the cloths washers are always on hand and ready to scrub the blood out of teams duds. It might be interesting to see a comedy anime about these magical creatures and their washing skills. I would think they are prized employee no matter what action/fantasy/horror anime was in favor.
Overall Grade: B+
Even though I don't find anything new or different about Akame ga Kill I still find a fun watch. It is fast and packed with action, albeit bloody, along with plenty of pretty girls. I guess that the thing that I find interesting is what is going to happen when Tatsumi is fitted with Imperial Arms that bring out his true power. I am guessing that in the second half of the series w will find out what makes him so special and if his stalker will get him back into her loving arms.
Akame ga Kill isn't for everyone, but I think it will find broad appeal. If the Attack on Titan crowd discover it they just might make a huge hit. So, if you enjoy a fun, fast, action packed anime with plenty of splattering blood the Akame ga Kill is for you.