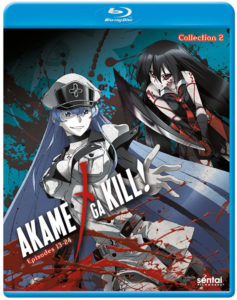 Title: Akame ga Kill Collection 2
Director: Tomoki Kobayashi
Creator: Takahiro
Written By: Makoto Uezu
Studio: White Fox, C-Station (ONA)
U. S. Distributor: Sentai Filmworks, Section 23
U. S. Release Date: May 17th, 2016
Format: Blu-ray / 12 Episodes / 300 Minutes:
Genre: Fantasy, Action, Supernatural, Drama
Age Rating: TV14
Overall Personal Rating: B+
Synopsis:
The convoluted path that has reunited Tatsumi and Esdeath takes another twist as they find themselves transported to a remote island where their strength will be tested as never before. Dr. Stylish may be dead, but Danger Beasts still remain, and that's only the first challenge the two enemies now face.
If the bonds of love weren't enough to bring their fates together, could the fire of combat forge a new form of alliance? Meanwhile, the embers of rebellion are being stoked into open insurrection by the pacifist organization Path of Peace. Drawn into the impending inferno, Night Raid and the Revolutionary Army prepare for a major assault on the Capital. But while their Imperial Arms may be indestructible, their wielders are merely flesh and blood.
On the anvil of battle, only human courage and the willingness to give their lives for a cause will lead to the ultimate triumph or failure in collection 2 of Akame ga Kill!
Commentary:
As series go Akame ga Kill is a little above average, but I was very concerned at the end of the first 12 episodes. I have seen all too many anime that started out with a solid story line that ended up become over indulgent and failed to bring it to a reasonable conclusion. Akame ga Kill manages to make it clear that the story is over and also does something very interesting for a mythic tail of heroes, it gives us closure with the characters.
Without giving anything away I have to say that I was a little emotionally wound up by some of the events and more than once felt both excited and sad by the battles fought.
Overall Grade: B+
I really like the second half of the Akame ga Kill  for what it was. The myth of the hero and the battle for what is right cam sometimes cross lines that both corrupt a moral existence but at the same time exact a price that can be too heavy to bear. When all is said Akame ga Kill manages to find a way to give us finality and hope at the same time.
If you are looking for a real action anime with lots of side plots and a harem tossed in to make it more interesting then Akame ga Kill it the one for you. I often find harm anime rather silly and only a very few make any sense, as for Akame ga Kill the story came together because of the harem and without the love story tossed in the plot would have been less favorable and entertaining. This is a winner and is worth the time to check it out.