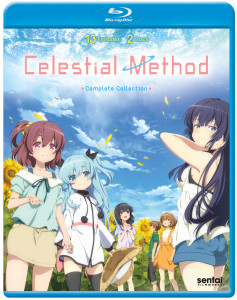 Title: Celestial Method the Complete Series on Blu-ray
Director: Masayuki Sakoi
Writer: Naoki Hisaya
Studio: Studio 3Hz
U. S. Distributor: Sentai Filmworks, Section 23
U. S. Release Date: March 22nd, 2016
Genre: Slice of Life, Fantasy
Age Rating: TV PG
Overall Personal Rating: A
Synopsis:
It's been seven years since Nonoka Komiya last lived in Lake Kiriya City. However, while she knew that there would be changes in the town, she's still unprepared for what she finds upon her return: A giant saucer hovers over the entire city, as it has since shortly after she and her family left.
Stranger yet, a girl she doesn't know, Noel, is waiting for her, claiming that they have met before. Confused, Nonaka tries to focus on reconnecting with her old friends, but odd memories, suppressed in the wake of her mother's death, begin to float to the top of her consciousness.
Can it be that she has met Noel before? And how does this connect with the appearance of the saucer itself? To solve the riddle, Nonoka must join with her friends and rediscover the events that occurred before she left Lake Kiriya. Because there's more than a mystery that must be solved: there's a promise that has to be kept in Celestial Method.
Commentary:
There is one thin that can be said about anime and that is that it covers a great deal of ground from hard edge dramas to silly strange comedies. Celestial Method is a series that is dear and sweet that explores friendship and the bonds that transcend space and time. There is also a very buhhdist  idealism running through it regarding connections and happiness.
I found much of Celestial Method to be a reminder of Anohana: The Flower We Saw That Day in how it approached the groups of friends but with the group not being so damaged there was a sweeter side of them coming back together. This kindness made the series a great fit for the younger audience.
Overall Grade: A
I realize that it might seem strange seeing Celestial Method as a top notch anime, but there is something very simple and heartwarming about it that made it great. Celestial Method is another example of a anime geared toward a younger audience that was not  given and English dud and that for me is a great mishap. I know that older viewers won't have any issues with the subtitles, but it would be wonderful if there was a English dub for those viewers under 11 or 12. Over the last 12 to 18 months there have been a good number of anime that fall into that category and each one of them have been solid titles that would have helped foster a new generation of anime fans. Alas, they will just have to wait until they are older and only want to do sub-titles.
As you can read, I really like Celestial Method. It is a solid little anime which offers a tad bit of a tear jerk at the end, but all in all it reminds you of the friendship. So, if you are in the mood for heartwarming story about a small group of friends then Celestial Method is something you should see.