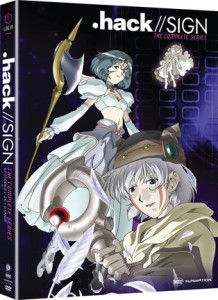 Title: .hack//sign Complete Collection
Director: Koichi Mashimo
Studio: Bee Train
U.S. Distributor: Funimation Entertainment
U. S. Release Date: Feb. 24th, 2015
Format: DVd/ 26 episodes + 2 OVAs / 700 minutes
Genre: Sci Fi, Fantasy, Gaming, Drama
Age Rating: TV 14
Overall Personal Rating: C
Synopsis:
Tsukasa awakens inside The World, an immense online RPG filled with monsters, magic, and mayhem. When he discovers he's unable to log out of this mysterious game, he joins forces with a colorful group of characters and begins a desperate quest to find his way back to real life. But, before he begins to find his way out he finds that this new world is what he has been looking for and not sure if he wants to leave.
Will he discover that his helpers are really there for him or is it the mysterious voice that leads him to his solitude that has his best interest in mind?
Commentary:
It is great that Funimation wants to remind us all that the concept of being trapped in a game is not a new one and that it is always, almost always fun to see how things have changed. In the case of .hack//sign I now think it should have been left in the archives to be a whispered reminder of days long past. I know that 2002-2003 may not seem that long ago, but in may ways it is a long time ago. Much of the animation styling and voice acting (dubs) still had a long way to go and most series played off the success that Cowboy Bebop and Trigun saw just a few years earlier.
.hack//sign fails to understand that there is more to the story than the plot and in the development of the characters it leaves all too much to the imagination of the viewer. After watching the first 12 episodes it became clear to me that Tsukasa was a character that I didn't care about and the others that wanted to help him just failed to give a clear reason why they wanted to get involved. Add this to the flat english voice acting made it very hard for me to go on to the next episode.
The one aspect to this series that made me move forward was the fact the basic story was interesting enough to make want more. With the new series that take on this basic plot like Sword Art Online and Log Horizon, I really wanted to understand what the much beloved great uncle (.hack) had to offer. It interesting how this concept has taken on new meaning and at the same time holds on  to some of the limited concepts that we brought forth by the true archetype, Tron. For .hack//sign this new world has its own ideas much the same as master program did and the use of regular characters play right into the wheelhouse that was Tron himself. I just think that the sad depressed boy thing that the Japanese seem to fixate on is just a little too much this time.
Overall Grade: C
.hack//sign is a great reminder of what anime was doing at the turn of the century and how time does make a difference. .hack//sign is fun to watch just a some sort of nostalgic trip down memory lane, but if you are looking for something to something to get hooked on please do not look in this direction.
If you want to complete a collection that covers the trapped in a video game world that you will need to get this and the other .hack anime because they are an important part of the genre that can't be overlooked.