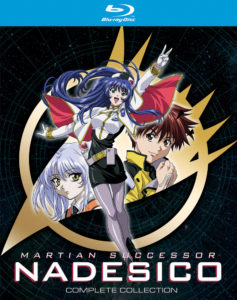 Title: Martian Successor Nadesico: Complete series plus Prince of Darkness on Blu-ray
Director: Tatsuo Sato
Studio: Xebec
U. S. Distributor: Nozomi, Lucky Penny
U. S. Release Date: April 4th, 2017
Format: Blu-ray/26 Episodes & Feature Film / 740 Minutes
Genre: Comedy, Sci Fi, Mecha, Harem
Age Rating: 13+
Overall Personal Rating: A-
Synopsis:
The Martian Successor Blu-ray contains all 26 episodes of the TV series and the Prince of Darkness movie across 4 Blu-rays PLUS an entire DVD of extras including the Gekigangar 3 OVA!
Tatsuo Sato's Comedy Masterpiece Returns in High Definition!
The Earth, its moon and its Martian colonies are under alien attack, but the war against the "Jovian lizards" has, so far, been nothing short of a series of disasters.
Disgusted by the incompetence of Earth's military, the independent arms manufacturer Nergal builds its own space battleship and plans to launch a desperate offensive to save humanity. But due to a shortage of trained soldiers, they've assembled the most unorthodox crew to ever launch into orbit! With a pacifist cook-turned-unwilling mecha pilot and a ditsy admiral's daughter in command, can this unprecedented gathering of geeks, misfits and anime fans prevail against the Jovian menace?
Commentary:
In the long list of Mecha Harem series, Martian Successor Nadesico stands out as one of the top series for me. Although it may be beginning to show its age it still has plenty of laughs and mecha action to offer. The great thing about this series is that it pokes fun at all of the tropes and silly plot devices that many of the older mecha series used. The unwilling Akito Tenkawa is every young male mecha pilot that shows up in series like Gundam, Evangelion and many others that give us reasons to root for a anti-hero figure, but in Akito's case he just wants to cook, but may be a better pilot than a chef.
The other great parody aspect to the series is the inclusion of their own anime series "Gekigangar III". This is a focal point for much of the crew and they exhibit a funny Otaku tenancy that pokes fun at the fan base of the mecha universe of anime. I personally think series like Martian Successor Nadesico provide a glimpse at the anime world that a large number of fans should be required to watch. This series of fun and laughs takes a goofy look at the world it lives in and also makes a very pointed commentary about the obsession that sometimes follows the fandom around.
Overall Grade: A-
I am not sure if there was a good reason to release Martian Successor Nadesico in Blu-ray it is very possible that the quality of the series is about the same on DVD. I am happy to see it coming back out. I think it is a series that needs to be re-released every 5 to 6 years just so new fans can discover the greatness of it and be reminded that anime is just anime.
There are many great anime that hold the mirror up to the fandom and Martian Successor Nadesico stands at close to the very top of the list. The other thing that keeps this anime worthy of praise is the overall humor that comes across and the simplistic approach to telling the story. If you haven't see Martian Successor Nadesico then you really have a reason to check it out. So, get busy!!!!