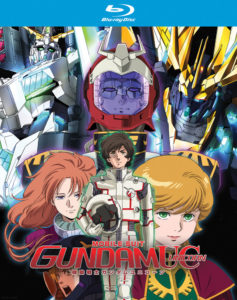 Title:Mobile Suit Gundam UC (Unicorn) Blu-Ray Collection
Director: Kazuhiro Furuhashi
Writer: Yasuyuki Muto
Music by: Hiroyuki Sawano
Studio: Sunrise
U. S. Distributor: Right Stuf
U. S. Release Date: March 6th, 2018
Format: Blu-ray / 7 Episodes / 450 Minutes
Genre: Mecha, Sci Fi, Action, Adventure, Drama
Age Rating: TV 14
Overall Personal Grade: A-
Synopsis:
Mobile Suit Gundam UC (Unicorn) Blu-ray Collection contains episodes 1-7.
Universal Century 0096. Three years after the last conflict between Neo Zeon and the Earth Federation Forces, the tentative peace of the Earth Sphere is about to be shattered again. Cardeas Vist, the head of the powerful Vist Foundation, has decided to hand over "Laplace's Box," the secret of the Foundation's prosperity, to the supposed enemy, Neo Zeon. Banagher Links, a student at the space colony Industrial 7, rescues a mysterious girl who calls herself Audrey Burne. Audrey is seeking to prevent a war, but it seems she has come too late. As Banagher's home colony is devastated by the attacks of the enemy mobile suit Kshatriya, he finds his strange destiny and is forced to fight in the formidable weapon system known as the Unicorn Gundam.
Based on a bestselling novel by the famed writer Harutoshi Fukui and animated with theatrical quality, this new chapter in the Gundam saga is a cutting-edge anime series for all coming generations.
Special Features: The "Story So Far", Episode EX "One Hundred Years of Solitude", Episode Recaps, Episode 5 Ending with Lyrics, Trailers, Promotional Videos, Commercials, MS & Character Highlights, Episode 3 Textless Ending.
Commentary:
In the wide world of Mobile Suit Gundam there are few series that I find as well put together as Unicorn. This short but exceptional series does something that others did not manage to do. It makes the characters mostly likable and less melodramatic than most of the other series. Unicorn does play fast and loose with physics and makes some aspects a little hard to believe but it remains fun and entertaining. Maybe not as much fun as MS 08th Team or dramatic and hard hitting as Thunderbolt,  but it still hits most of the high points and leave little to disappoint.
The one thing that I felt was a little to tried and true for a Gundam series was the way Banagher was whinny and somewhat of a punk. This model of the anti-hero is something the Japanese love to have as the star protagonist. At least they toned it down somewhat and didn't allow him to ruin the series the way Camille or even Amuro Ray for that matter. This whinny hero boy archetype is always the weak link in gundam and it is not surprise that most fans will levitate toward  Char or Full Frontal as the real favorite.
Overall grade: A-
One great benefit to being produced in the last 10 years is the quality of animation. Unicorn is top flight and it really does make a difference. Being easy to watch make all the difference in the world. I found it much easier to overlook the bad physics and melodramatic writing when the overall look is fluid and appealing.
Overall Mobile Suit Gundam: Unicorn is one of the best short series for Gundam, next to MS o8th Team. I know that this group of disc were out already, but the repackaging in a single group is much appreciated and I have a feeling that plenty of Gundam fans will be standing in line on March 6th to get their copy. I know I am glad to have mine.