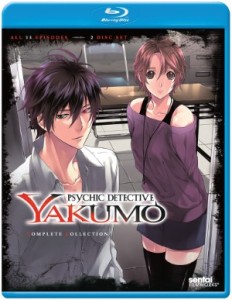 Title: Psychic Detective Yakumo: Complete Collection on Blu-ray
Director: Tomoyuki Kurokawa
Written By: Hiroyuki Kawasaki
Original Novel by: Manabu Kaminaga
Studio: Bee Train
U. S. Distributor: Sentai Filmworks, Section 23
U. S. Release Date: Sept. 30th 2014
Format: Blu-ray / 13 Episodes / 325 Minutes
Genre: Psychological Drama, Mystery, Detective Fiction, Romance
Age Rating: TV 14
Overall Personal Rating B
Synopsis:
Haruka Ozawa's sophomore year is getting seriously scary. One of her friends is possessed, another has committed suicide, and Haruka could be next. She has a real talent for digging up secrets, but some killers won't hesitate to kill again to keep those same secrets safely buried. So, how does Haruka get out of this potentially lethal dead end?
She'll have to convince Yakumo Saito, an enigmatic student born with a mysterious red eye that allows him to see and communicate with the dead, to team up with her. Will Haruka be able to solve the ultimate in dead case files with Yakumo's help? Or will they end up in cold storage themselves? They may just have a ghost of a chance.
Commentary:
Even though it has been almost a year and a half since Psychic Detective Yakumo was released in the U. S. inDVD format, it is good to see it coming back into the spotlight for the Blu-ray release. The series is a very special one because of the way it approaches the world the series is wrapped up in. It allows us to believe in things that typically scare us but in fact are not the source of despair that most ghost stories wan to lead you to believe. In fact it is the ghost that help solve the mystery and end up just being nothing more than souls that still had something to say.
I really like the way they portrayed Yakumo Saito. He comes across as a cold dejected person who does not care at all about the world around him but as we move through the series we begin to see just how connected and caring he really is. There are moments when I wanted him to show a little more emotion and maybe even give Haruka something that would help her bond better, but I guess that is part of the charm that is this somewhat dark series. I say somewhat dark because it is more of a mystery or deceptive series that a ghost or horror series. I can't say so much for Haruka's character. As much as I wanted to like her I just felt like she got in the way most of the time. I realize that she added some sexapeal, but this series didn't need that. I do have to hand to the writers, they could have made her character to be a ditz but they did give her a relatively solid personality that could handle complex situations.
The plot of the series did drag a little at first but once it got moving everything began to fall in place and it ended up being somewhat of a solid storyline. The animation by Bee Train fit well with the subject matter my only issue is that Yakumo took on a rather stereotypical profile that made him end up being closer to L from death Note than a recluse who can see ghost. His quirky person worked well for a while but in the end it drug his character down just a little too much. I can't say it was overwhelming but by making essentially a human with a lazy cats aloof personality didn't play as well as it could have.
Overall Grade: B
Psychic Detective Yakumo is a solid detective mystery  series that will keep you watching. I know that the series was a live action TV show in 2006 ad I would have loved to see it broadcast. I'm sure it was well received. I also know that there are a series of light novels that preceded both the TV, anime and manga series. As a person who loves books I would like to read some of the novels, I'm sure that the characters are richer and much more fun to move through the stories with.
All-in-all I have to say that Psychic Detective Yakumo is a solid series that could have been great. It just lacked in character development and some relative basic styling. Other than that it was a genuinely entertaining series with plenty of drama and mystery to go around.