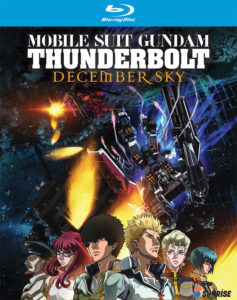 Title: Mobile Suit Gundam Thunderbolt December Sky on Blu-ray
Director: Kō Matsuo
Writer: Kō Matsuo
Music by: Naruyoshi Kikuchi
U. S. Distributor: Sunrise, Right Stuf
U. S. Release Date: July 7th, 2017
Format: Blu-ray / Feature Film / 70 Minutes
Genre: Sci Fi, Mecha, Action, Adventure, Drama
Age Rating: TV 14
Overall Personal Rating: A
Synopsis:
Their war has not yet ended…
It is Universal Century 0079, at the end of the One Year War between the Earth Federation and the Principality of Zeon. The space colonies of Side 4, or Moore, were previously destroyed by a Zeon attack, and many colonists lost their lives. Side 4 became a shoal zone filled with the wreckage of destroyed colonies and warships, lit by constant flashes of lightning due to collisions between electrified debris. It soon came to be known as the "Thunderbolt Sector."
The Moore Brotherhood, an Earth Federation Forces unit made up of surviving citizens from Moore, set out to exterminate the Zeon forces in the Thunderbolt Sector in order to reclaim their homeland. To halt the Federation advance, the Zeon forces deployed their own Living Dead Division, which was established to collect combat data on soldiers with prosthetic limbs.
Io Fleming, though part of the Moore Brotherhood, hates being tied down by his homeland and family history. Daryl Lorenz, having lost his legs in earlier battles, is now an ace sniper of the Living Dead Division. When they confront each other on the battlefield, they will reach a mutual realization. These two are destined to kill each other.
Commentary:
Mobile Suit Gundam Thunderbolt December Sky is the type of anime film that proves if you keep doing a thing enough you will finally get it right. This film hits on several major points and leave3s you wanting for a lot more. From the opening sequence all the way to end ending montage I found December Sky to be a delight. It did manage to have some of the overly melodramatic elements that Gundam Universal Century calls for and at the same time uses music and lively characters to make this fast paced film something worth watching.
One thing is very clear and that is the fact that Kō Matsuo understood the import of making these characters complex and human enough to sympathize with on both sides. Funny thing, I found December Sky to be one of the most anti war Gundam produces yet.
Overall Grade: A
As you can tell, I really liked December Sky and will recommend it to all Gundam fans and all other Sci Fi fans who love music and action. I don't really care if it doesn't resolve anything I think that from the artistic stylings to the insane character development everyone can get a great idea of what this film is all about. So, I just want to tell Kō Matsuo thank you for proving us with 70 minutes of pure excitement.